Editor's Note: This profile was created by the CCS team in Kibera,  Joseph Njenga is the general manager of this innovative social venture and his contact information can be found below.
!!!Check out a Community Cleaning Service (CCS) video advertisement here on youtube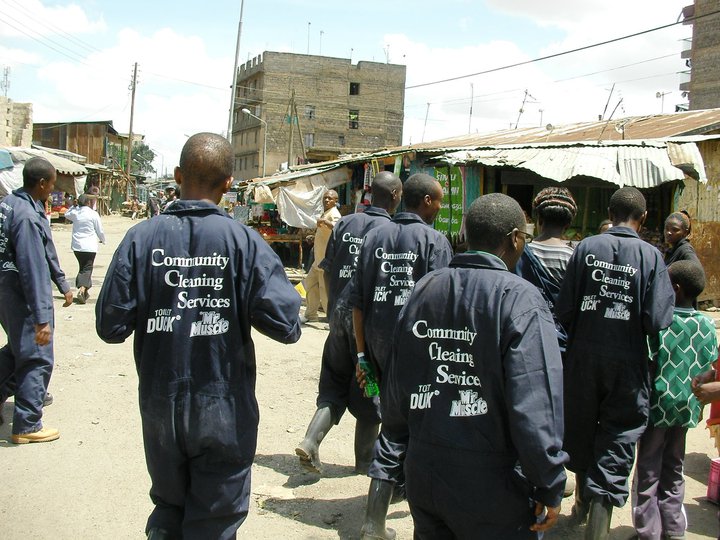 Community Cleaning Services (CCS) is an emerging Kenyan nonprofit social enterprise that is improving urban sanitation while creating profitable entrepreneurial opportunities for youth from low-income communities. CCS uses a microfranchise distribution platform to offer an integrated model of awareness creation, training, quality assurance, product supply and marketing support to sanitation service providers (mobile cleaning teams and public toilet operators) who are delivering toilet cleaning services across Nairobi's low-income communities. These sanitation service providers offer significantly cleaner, more hygienic and more usable toilets at a cost low-income clients can afford (usually less than 20 U.S. cents per family per week). Leveraging resources and expertise from local entrepreneurs, multi-national private sector (SC Johnson) and social sector (Plan International) partners, CCS has developed an innovative turnkey solution to the "software" (ongoing management and maintenance of toilets) challenges, as opposed to the toilet "hardware" or infrastructure construction challenges, of urban sanitation.
CCS has evolved a holistic approach to the complex issues of urban sanitation that results in financially sustainable, community-owned solutions.  The goal of CCS is to engage low-income urban communities to create demand for cleanliness, hygiene and sanitation which in turn creates a market for sanitation professionals to improve their livelihoods and their own communities. To achieve this goal, CCS focuses on two core activities to support the success of the sanitation service providers:
Training of Sanitation Service Providers
CCS provides comprehensive training to two groups of sanitation service providers:
1)Mobile Cleaning Teams (MCTs)
CCS is an opportunity for young people living in Nairobi's lowest-income communities to establish their own business: an MCT serving and improving their community. MCT work consists primarily of cleaning shared toilets in residences, schools, health clinics and restaurant/bars. The Team Leader is a Community Cleaning Services micro-franchisee, operating his or her own small business.  One Team Leader shared his view of the difference between employment and being a CCS entrepreneur:
"You are not someone else's donkey, enriching someone else's enterprise. You work for yourself and treat  your own workers, guys you grew up with, as partners."
Training and uniforms are provided free-of-charge by CCS. The initial cleaning products and equipment are provided on consignment terms, therefore start-up costs for MCTs are negligible and they can start earning a profit immediately. The CCS  induction process, however, ensures that CCS invests in viable entrepreneurs.  When working through social sector partners (eg: government and NGO), the partner provides the funding for start-up costs and for CCS to assure the ongoing quality of cleaning service, either through training of partner staff or the direct involvement of CCS Quality Assurance staff.
2) Public Toilet Operators
Many residents of low-income urban communities do not have access to a toilet inside their residential plot and many also spend a significant amount of time away from home seeking income. These are typical users of "pay-per-use" public toilets managed by an individual or a group of operators from the community.  CCS has worked with local government, NGOs, community entrepreneurs and professional toilet owners to train operators and provide ongoing quality assurance and product supply to ensure cleanliness and operation.  CCS' involvement has increased the "business" or "use" of public toilets in 100% of the cases where standards are met and, in some cases, volume has doubled as users, especially women, choose to use a clean and safe toilet.
The cornerstone of CCS' success in developing successful urban sanitation businesses is our proprietary training curriculum that combines classroom- and field-work to prepare new sanitation service providers to be world-class cleaners, to manage their own businesses, and to generate demand in their communities for their services. Three types of training is conducted:   a) Cleaning; b) Business Management; c) Sanitation Marketing / Awareness
1) Cleaning Training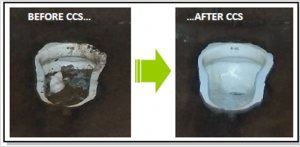 Training  begins with a one-day, 100% in-field intensive cleaning training session in which the new sanitation service providers learn CCS cleaning standards, which requires every part of the toilet to be cleaned and disinfected, from ceiling to the bowl.
2) Business Management Training
Team members attend an active five-day business training focused on sanitation services, at which they learn concrete skills like costing, data and cash management and sales, as well as tips for dealing with common challenges and conflicts. Teams leave the training with a detailed business plan and continually review and evolve the plan with guidance from the CCS Business Support team.
3) Sanitation Marketing / Awareness Training
In order to create market demand for sanitation improvements, sanitation service providers are trained in CCS' methodology of "triggering" (adapted from the Community Led Total Sanitation approach for urban settings) to raise community members' awareness of the risks of poor sanitation and hygiene, and to mobilize improvements. During this process, open meetings are held with the community to discuss and observe their own practices around open defecation and to drive people to change their sanitation habits. Once the community has been "triggered", CCS launches various activities to demonstrate possible solutions, including community-wide toilet cleaning days. This allows community members to experience what it's like to have a really clean toilet and converts some of them into regular CCS franchise clients.
Ongoing Quality Assurance, Mentoring & Marketing Support
CCS does not train just to train; CCS trains to create successful businesses. To ensure long-term success of the businesses, the eight-person CCS Business Support team, led by two individuals who proved themselves as successful Mobile Cleaning Team Leaders, is a constant presence in the communities in which CCS operates. The team is made up of expert communicators and trainers who come from and are driven to serve Nairobi's lowest income communities. Key responsibilities are to work with CCS partners and sanitation service providers to train, mentor, test innovations, ensure quality, and sow the seeds of CCS' unique mix of entrepreneurial drive and grassroots movement.
CCS Impact
CCS delivers social and health impact in the following categories:
Training: Trained over 200 young people in sanitation service provision and business management; trained over 300 community members in sanitation awareness leadership and facilitation
Youth Employment: Currently ten active Mobile Cleaning Team Leaders who employmore than 60 professional cleaners on a semi-regular basis (2-6 days per week)
Sanitation Awareness: Approximately 2500 community members "triggered"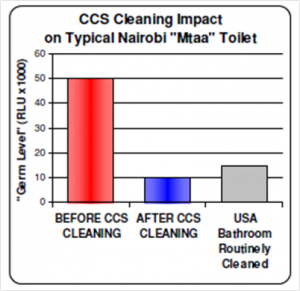 Improved Sanitation: Monthly, CCS teams are improving sanitation for a conservatively estimated 500,000 low-income Nairobi residents.  Precise measurement of sanitation improvement is challenging but CCS employs a FireFly™ bacteria meter; tests with this meter have shown 80 percent reduction in bacteria after CCS cleaning (as shown in the figure on the right). The following is the number of toilets cleaned by all CCS MCTs in two of its most important customer groups in January 2011, a typical month: Customer Type # of Toilet Cleanings CommentSchools 780 Critical to combat diarrheal disease, the largest killer of children under fiveResidences 225 Some parents were not allowing children to use the toilets alone for fear that they might touch or fall in the wrong place. CCS changed that.
CCS is already delivering profitable local entrepreneurial opportunities; significantly improved incomes; and cleaner, safer toilets. Beyond that, CCS is a catalyst for a grassroots movement to raise toilet sanitation standards and community expectations.  The CCS vision is to deliver a cleaner, safer option to families around the world who have no choice but to use unsanitary shared or public toilets, a population the World Health Organization estimates at 1.4 to 2.6 billion.
_____________________________________________________
For more information please contact: Joseph Njenga, General Manager, Community Cleaning Services   Email: joseph.njenga@comcservice.com; Office: +254 729352386
Check out CCS Facebook page here to learn more about this innovative approach to developing sanitation as a business.  On this page you  can watch some well produced videos profiling individual CCS entrepreneurs as well learn more about this iterative process in developing a sustainable business model.