WASHCost calculator: costing the life-cycle of water and sanitation services | Source: IRC, Dec 3, 2012
IRC International Water and Sanitation Centre is developing an innovative app with a new grant from the Bill & Melinda Gates Foundation. The app will help implementers and donors of water, sanitation and hygiene (WASH) programmes better plan and evaluate sanitation and water services using cost and service level data. It's called the WASHCost Calculator and it will ease the costing of the life-cycle of water and sanitation services at a critical moment when more than 50 governments, multilaterals, training institutions, International NGOs and donors are either using or planning to use the life-cycle costs approach.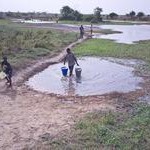 The vision for the WASHCost Calculator is that WASH sector practitioners use life-cycle costs information to adapt their plans and achieve water and sanitation services that last for generations. Users without expert knowledge about the life-cycle costs approach will be able to run a sustainability check to strengthen delivery of water and sanitation services, make use of reliable life-cycle cost information, and understand the benefits of the life-cycle costs approach. The prototype of the WASHCost Calculator has garnered interest and feedback from a wide range of users across Africa, Latin America and Asia.
According to Project Coordinator Nicolas Dickinson, IRC, "People will simply type a technology and country, such as Burkina Faso and latrine, and examples based on existing data will appear. People can dig into it as little or as much as they want". The calculator will allow organisations to collect, upload, analyse, and exchange data on the cost of water and sanitation services. The project will be implemented by IRC with more than 10 organisations (donors, implementing agencies, multilaterals) actively participating to test new features on a regular basis. Hattery Labs, an innovation lab and creative consultancy contracted by the Bill & Melinda Gates Foundation, will provide advice on the user experience and interface of the Calculator and provide advocacy and marketing services.
The WASHCost Calculator builds on the methodologies and experiences of the WASHCost project . According to WASHCost Project Director Catarina Fonseca, IRC, "There has been a large demand for training over the last months. It is only natural that we further support users in the analysis of the cost and service level data they collect. We needed something more intuitive and simple for the analysis, but we also need to get more financial data. I'm really excited about the quick financial sustainability check – even when you only have very little cost information". The WASHCost calculator quick sustainability check will be available in March 2013.
This project will run from December 2012 until January 2014 and has a total value of US$ 443,317.