Innovative Cookstove Business Secures Support from the Kenya Climate Innovation Centre | Source: In2EastAfrica, Jan 18, 2012.
Nairobi, 18 January 2013 – The Kenya Climate Innovation Centre (CIC) provides incubation, capacity building and financing to entrepreneurs and SMEs which are developing innovative climate change solutions.
Since its launch in September 2012, the centre has accepted fourteen entrepreneurs into its programme. One of the successful applicants is Kenneth Ndua, who has designed and developed an energy efficient cookstove that simultaneously boils water.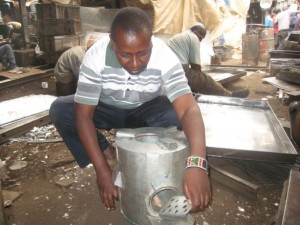 Kenneth has been working with women's groups in Kibera, Kawangware and Ruiru since 2002. Through his work, he observed that many local residents were suffering from illnesses related to smoke inhalation and contaminated water: "poor families [were] suffering from common water borne diseases such as diarrhoea just because they could not afford to boil water for drinking or were not in a position to afford the water purification chemicals. Many women would also speak of a lack of time to boil water."
In response to this challenge, Kenneth designed and fabricated a multipurpose fuel efficient cookstove called EARS (Energy All Round Stove). The stove is compatible with different types of biomass, and features an inner jacket that can be filled with 7 litres of water. This unique design feature both improves heat transfer efficiency, and allows for water to be boiled simultaneously whilst cooking. Once boiled, the water is 95% free from bacteria and contaminants.
Over the last 3 years Kenneth has tested and refined the product. He is now looking to scale up production, but is facing a number of challenges. "My greatest obstacle has been getting a reliable person or organisation that could fabricate the stove and maintain standards. This made me lose a very lucrative supply [contract] to a reputable organisation. The other challenge is finances to support the fabrication [of the stoves] at a reliable facility and also to develop the distribution and marketing model that I have designed".
In September 2012 Kenneth applied for support from the CIC to address these challenges. GVEP International, as the lead partner for advisory services to the CIC, has been working closely with Kenneth since then to identify and evaluate manufacturing options (e.g. evaluating the pros and cons of manufacturing stoves components (lining, cladding) separately vs. together), evaluate potential manufacturing partners, review stove transportation options, and prepare applications for financing. "I was attracted to the CIC due to its goal of assisting innovators… So far I would say the technical advice and support in visiting and identifying credible fabrication facilities have been of great benefit".