From: Julie Straw, MPH
CARE USA Water Team
SWASH+ is an action-research and advocacy project focused on increasing the scale, impact and sustainability of school water, sanitation and hygiene (WASH) interventions in Kenya. Since September 2006, SWASH+ has collaborated with teachers and students in 185 primary schools in four districts in Nyanza Province, Kenya to identify challenges and analyze innovative solutions for sustaining school WASH. The project's randomized controlled trials and numerous sub-studies have resulted in a compendium of research publications, one-page research summaries, stories from the field, photo essays and short films now available for the public on the new SWASH+ website.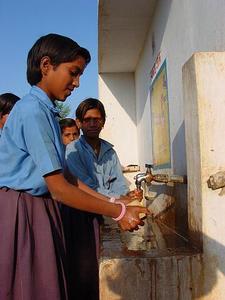 Six years of research was not conducted to simply share findings among academics and non-government organizations; from day 1 the project was designed with a strong advocacy-for-policy-change to reach successful implementation of school WASH throughout Kenya. The Government of Kenya has been a key contributor and the ultimate target audience for the lessons and recommendations from the SWASH+ project.
This research-based advocacy approach has led to wide-spread change across Kenya. SWASH+ research directly contributed to the Kenya's Ministry of Education decision to double funding for school WASH ($840,000/year) with potentially more to come. This increase makes a difference in whether or not a school is able to purchase consumables such as soap, WaterGuard for treating water, and latrine cleaning supplies – thus affecting student wellbeing and attendance. Research also brought national attention to the menstrual hygiene needs of young women in Kenya, resulting in Kenyan government allocation of $3.4 million for sanitary pads for school girls this year. SWASH+ research also impacted the adoption of new curriculum and…(want to read more? Check out the new SWASH+ website)
SWASH+ research continues to influence national policies impacting monitoring tools and sustainability of school WASH in Kenya. The launch of the new website gives years of research, resources, and lessons learned to a new global audience. The website also provides a platform for international collaboration with others who desire to improve school WASH conditions in developing nations. CARE and Emory are already applying lessons from SWASH+ to other significant programs such as the Dubai Cares consortium on school WASH that will operate in Mali, Indonesia, Yemen and possibly Morocco. The SWASH+ project has proven that partnership for advocacy-based research can go beyond the localized area of research, but expand to nationwide and international change.
For additional findings, journal publications, one-page research summaries, stories from the field, photo and video gallery, and more check out the new SWASH+ website.
The partners that form the SWASH+ consortium are CARE, Emory University, the Great Lakes University of Kisumu, the government of Kenya, and Water.org. SWASH+ is funded by the Bill & Melinda Gates Foundation and the Global Water Challenge. The new website is created and hosted by IRC International Water and Sanitation Centre.