Chlorine Dispensers: An Innovative Solution – Innovations for Poverty Action
The Chlorine Dispenser System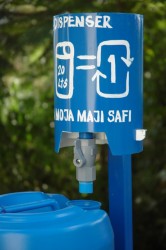 In 2007, a new approach to delivering chlorine at the community level was developed through a collaboration between Innovations for Poverty Action (IPA) and researchers at Harvard University and the University of California, Berkeley. This innovative technology – the chlorine dispenser system – provides a water treatment solution for use in poor areas where people do not have access to safe water from a piped system. This program aims to radically increase the percentage of households that treat their drinking water by providing chlorine treatment at water sources through easy-to-use dispensers.
By using inexpensive bulk chlorine refills and simple long-lasting hardware, chlorine treatment can be provided through dispensers for as low as $0.30 US (24Ksh) per person per year. The low cost and large health impact make this program as cost-effective as the most successful public health programs, such as childhood vaccination.
The dispenser hardware is installed at communal water sources such as springs and wells and consists of a stand, a chlorine tank, and a high durability valve calibrated to release a 3ml dose of 1.25% sodium hypochlorite – enough to treat 20 liters of clear water. A community member is selected to take a leadership role in maintaining and managing each dispenser. This person, known as a 'promoter', is responsible for refilling the chlorine tank once a month, conducting community education about the dispenser, and reporting any problems to the organization implementing the chlorine dispenser system. Bulk chlorine refills can be distributed to chlorine dispenser sites through retail outlets, institutions such as schools or clinics, or people who contract with the implementing organization to deliver chlorine via motorbike directly to the promoter.
Treating water with a dispenser is quick and easy. Users dose a 20 liter container by turning the dispenser valve once to add chlorine to their container. The chlorine mixes with the water when the container is filled and transported home.
Furthermore, the public nature of the dispenser helps to encourage adoption. Given the strong social ties of rural communities when one community member sees another community member using the dispenser it leads to powerful social norm formation around water treatment and encourages peer education about safe water practices.