Global Access to Clean Drinking Water and Sanitation: U.S. and International Programs, Sept 2012.
Tiaji Salaam-Blyther. Congressional Research Service.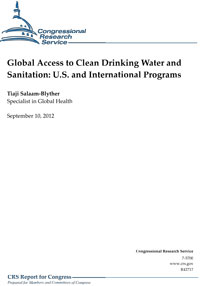 Several agencies contribute to U.S. efforts to improve global access to clean drinking water and sanitation, of which programs implemented by the Millennium Challenge Corporation (MCC) and USAID make up roughly 90%. In FY2010, for example, the United States invested $953 million on water and sanitation programs worldwide, including $898 million provided by USAID and MCC. Appropriations for water projects are provided to USAID annually, while MCC receives multi-year funding for its country compacts that include support for water projects. As such, spending by MCC on water projects may vary significantly from year to year and may not
be requested annually.
The President requested $302 million for USAID's water activities for FY2012 and Congress appropriated not less than $315 million for international water and sanitation programs through the FY2012 Consolidated Appropriations. The FY2013 request for USAID's water and sanitation efforts was slightly lower at $299.1 million. This report addresses congressional efforts to address limited access to clean drinking water and sanitation, outlines related programs implemented by USAID and MCC, and analyzes issues related to U.S. and international drinking water and sanitation programs that the 112th Congress might consider.
CONTENTS
Introduction
Background
Global Access Rates to Clean Water and Sanitation
Clean Water
Sanitation
International Spending on Water and Sanitation
Water and Sanitation Funding Needs
Congressional Actions
U.S. Foreign Assistance for Water and Sanitation
U.S. Progress in Meeting Clean Drinking Water Targets
Water for the Poor Act, Implementing Agencies
U.S. Department of State
U.S. Agency for International Development
Distribution of USAID WASH Resources, FY2006-FY2010
Millennium Challenge Corporation
U.S. Global Water and Sanitation Efforts: Issues
Clarifying Roles and Responsibilities and Authorizing Funding
Balancing Funding Between WASH and Other Water Areas
Balancing Regional Investments
Ensuring Accuracy of Data
Sustainability/Prioritizing Operations and Management
Summary of Key Issues