Progress on sanitation and drinking-water – 2013 update: Joint Monitoring Programme for Water Supply and Sanitation.
JMP 2013 update presents country, regional and global estimates for the year 2011. Drinking-water coverage in 2011 remains at 89% – which is 1% above the MDG drinking-water target. In 2011, 768 million people relied on unimproved drinking-water sources. The report covers the following chapters: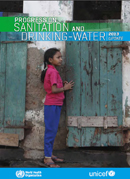 Global sanitation trends 1990-2011
Trends in open defecation 1990-2011
Global drinking-water trends 1990-2011
Towards a post-2015 development agenda
The JMP method.