Filters for the World: POU filters provide clean water for developing nations | Source/complete article: by Lieselotte Heederik, March 2014 |
This article provides an overview on Point-of Use water filters and gives information on the Nazava water filter. The Nazava filter is new product has recently been introduced on the market in Indonesia. Nazava water filters use a simple ceramic filter shaped like a soda can. The ceramic is impregnated with silver and filled with activated carbon, which helps improve the water's taste. The filter's small size makes it easy to transport, and, as its costs per liter are three times cheaper than boiling water and nine times cheaper than bottled water, the economic benefits are high.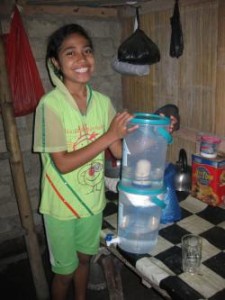 Nazava filters have 99.99% effective bacterial removal. They have been tested in 16 laboratories in Indonesia and overseas. They comply with Indonesian standards for safe drinking water and WHO guidelines for bacteria removal.9 To address the preferences of every household, the filters come in different sizes and colors.
Nazava filters can make well, rain and tap water drinkable without boiling it first. As no fuel wood is needed, they reduce the labor burden on women. Using them also can result in significant savings in gas and kerosene. They purify turbid water as well, as long as the water is fresh.