Why Sanitation Business Is Good Business | Source: Forbes, Jan 28, 2013 |
"Sanitation is more important than independence," Mahatma Gandhi said in 1925. In 2006, Ashoka Fellow David Kuria decided Gandhi was right—improving sanitation by thinking beyond the toilet became his chosen mission. In this post, Nikki and Rob Wilson explore why David's innovation has been so successful in urban settings.
Going to the toilet while you're traveling in Africa is not an experience you look forward to. To be totally frank, it can be so bad that invariably it makes you gag. But in Kenya, ask anyone for the nearest "Ikotoilet" and all your dreams come true. For just five shillings (pennies on the dollar) you get to do your business in a spick-and-span public loo. What's more, once you're done you can top up your phone, buy a cold Coke or get your shoes shined.
David Kuria, an Ashoka Fellow since 2007, launched the social business Ecotact to challenge toilet taboos and make sanitation sexy. Sound a bit crazy? Not one bit. Poor sanitation kills millions every year and David's "toilet talk" strategy is saving lives. "I wanted to re-invent the whole sphere," David told us, totally disenchanted by tokenistic toilet-building.
After hours of hard graft and research, the Ikotoilet concept was born, and with it, three core objectives that have guided widespread shifts in health and hygiene:
Objective 1: Transform the architecture of the toilet
An architect by training, David believes all buildings should be beautiful. "No one has given any thought to the toilet as a piece of art," he said to us, not even breaking into a smile. Determined to prove that with beauty comes respect, David purposefully designed every block of toilets to be a striking landmark. Using funky shapes and bright colors, it's fair to say the Ikotoilet isn't easily missed. What's more, both the staff and the customers take time to keep the loos in great condition, proving David's mantra that if you build something beautiful, people will want to take care of it.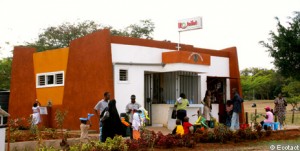 Objective 2: Implement a business model that disrupts the status quo
For just five schillings, an affordable price for all, the general public can go to an Ikotoilet and access clean, safe and hygienic sanitation facilities—services that before Ikotoilet simply didn't exist. This might not sound revolutionary but here's the twist. The Ikotoilet block is also known as a "Toilet Mall." The space surrounding the loo block is rented to local businesses that provide a range of services like hair cutting, shoe shining and money transfer. Drawn in by the opportunity to advertise to a captive audience, bigger businesses also pay for wall space to promote their brands.
Income from entry fees, rent revenue and advertising deals covers all the overheads of each Ikotoilet and leaves enough left over to repay David's investment loan. In fact, within five years, each Toilet Mall will be turning a tidy profit. Aside from being a nice little money-making scheme, the beauty of this model is that it removes the stigma around stinky toilets, creating instead a space where communities can convene. In turn, this places important pressure on the Ikotoilet staff to keep their standards high and their facilities 100 percent stench free!
Objective 3: Get people talking about sanitation and hygiene
Using innovative mass media campaigns, David tackles cultural taboos which keep the toilet business a hush-hush topic of conversation. To date he has recruited Miss Kenya to serve toilet tissue to customers, at the same time talking to them about the link between hygiene and beauty. He has also brought in other public figures to do the same, including Vice President Stephen Kalonzo Musyoka, key religious leaders, and Kenya's top comedian Makhoha Keya. In 2010, he took an even wackier approach. He brought together 18,302 children, 1050 adults, 40,000 liters of water, and 23,000 bars of soap at one venue to break the Guinness World Record title for "Most Number of People to Wash their Hands in One Day."
Unsurprisingly, this campaign and others successfully keep hygiene in the headlines. "We have got people talking about toilets," David told us, explaining that driving behavioral change is the objective which underpins everything within the Ikotoilet strategy.
The success of Ikotoilet in Kenya has come as sort of a shock to David, especially because Ikotoilet almost failed to get off the ground. In 2007, when David was trying to get started, he was turned away from every Kenyan bank for a loan. "They would give me an audience but when I told them it was about a toilet, they would look at me as if there was something wrong." On the brink of chucking in the towel, David managed to convince Acumen Fund (an investment company solely focused on social ventures) to take a chance on him, granting him a $750,000 loan in three installments.
Luckily, this risk paid off. Within just three years, 50 Ikotoilets have been installed in 20 municipalities across the country and in 2011, Ikotoilets expect to receive 10 million customers, an average of 30,000 per day. This might not build their environmental credentials, but Ikotoilets make every effort to keep themselves green. They use waterless urinals, low-flush toilets and water-saving taps. They even try to make use of human waste by converting it into bio gas for cheap cooking fuel and fertilizer for community gardens.
David estimates that Ikotoilet is only responding to 10 percent of the demand in Kenya, which means there's ample space for growth over forthcoming years. Within Kenya, he's also branching out into sanitation for schools. Using donations to cover the initial building costs, he's already built 10 Ikotoilets on school grounds and will use corporate advertising to pay for the ongoing overheads. Hoping to shape the views of the next generation, each new installation is also supported by an education program which promotes hygiene, sanitation and good health.
Not content to stop at the Kenyan borders, David is also looking at scaling Ikotoilet across the whole continent—this expansion is essential as currently it's estimated by the United Nations that only 60 percent of people in Sub-Saharan Africa have access to basic sanitation facilities. With the financial support of East African Breweries, a 10-toilet trial has launched in Uganda, and there are plans in the pipeline for facilities in Tanzania, Ghana andLiberia.
In Swahili, Ikotoilet literally means, "There is a toilet." After our Ikotoilet visit, we decided we wanted to add a few extra words: There is a toilet … that is changing the world.
This post was adapted from one of 18 stories about social entrepreneurs who are transforming Africa featured in Nikki and Rob Wilson's book, "On the Up." Rob is a senior staff member in the Ashoka UK office. He is also an award winning social entrepreneur in his own right as founder of READ International and NoPC. Nikki runs the UK division of Red Bull's Charity Foundation, Wings for Life, and co-founded READ International alongside Rob when they were students.