Kenya Water Sector Innovator Leads the Way with Commercial Financing | Source: USAID SUWASA, Apr 2014.
Excerpt:  This post describes an innovative financing deal, facilitated by USAID's Sustainable Water and Sanitation in Africa (SUWASA), which is enabling a local water utility to access finance to install 23 kilometers of pipeline and provide water to more than 75,000 low-income residents in Embu, Kenya.Embu Water and Sanitation Company (EWASCO), under the leadership of its Managing Director Harim Karugendo, secured US$945,000 in commercial financing from Housing Finance for the work.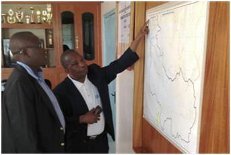 The bank is backed by a guarantee from the U.S. Agency for International Development's (USAID) Development Credit Authority, and the project is supported by an Aid on Delivery grant from the Kenyan Water Services Trust Fund (WSTF), funded by the German development bank KfW.
Read the complete article here.