A Simple Yet Brilliant $1.50 Sanitation Idea – Made by the toilet manufacturer American Standard, this "trap door" seals off open pit latrines that are a major source of disease in the developing world.
This article discusses a sanitation solution by bathroom and kitchen fixture company American Standard. Funded by the  Gates Foundation, American Standard has developed a $1.50 latrine pan that cuts down on sanitation-related disease transmission by sealing off pit toilets.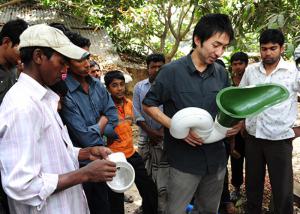 The $1.50 pan has been a hit in field trials in Bangladesh; in addition to being more sanitary, the pan also blocks off nasty smells from the latrine. While American Standard hoped to get the price down to a $1, McHale still believes the product is affordable.
So far, American Standard has sold close to 70,000 units in Bangladesh, and in 2013, the company donated 533,352 of the pans for distribution this year. The company is now thinking about how to launch the product in India. It's also working on a design for Africa that uses less water.