By Eliza Villarino, 27 October 2014, DEVEX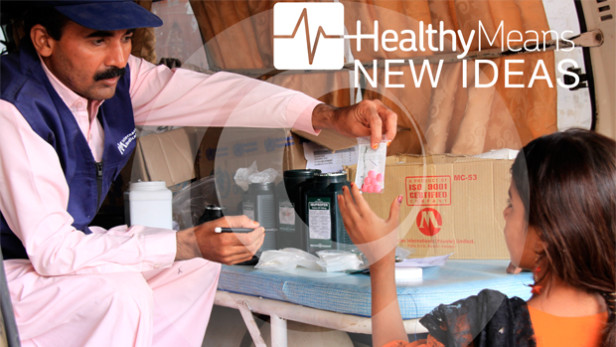 A young girl receives medicine from a health worker at a mobile health clinic in Sindh, Pakistan. How do we scale up innovative solutions for global health challenges? Photo by: Vicki Francis / DFID / CC BY
If there's one positive lesson to learn from the Ebola scourge, it's that there's no dearth of solutions to global health challenges. Prior to the current outbreak, the narrative was that there was no known drug for the disease; soon, vaccines and treatments will undergo testing.
Those experimental vaccines and treatments flew under the radar until the Ebola outbreak turned into a humanitarian tragedy and, eventually, captured headlines and the attention of global leaders. Urgency has created a market for Ebola solutions.
The same cannot be said for many other promising ideas in global health. Today, quite a number of medicines, health diagnostics and delivery mechanisms are lagging behind their potential.
"What we have is only a trickle of things transitioning to scale," said Peter Singer, CEO of the Canadian government-funded Grand Challenges Canada. "So the next great challenge in global health and development is to turn that trickle into a torrent of things to scale."
Scaling up new ideas in global health is a challenging venture. It requires leadership, funding and buy-in from a variety of stakeholders, from patients to providers, from the public to the private sector. Cross-sector partnerships can facilitate the process, but there's no silver bullet to sustainably scaling up new ideas in global health.
Funding new ideas
More players than ever are engaging in global health, with corporations and philanthropic foundations taking on a particularly growing role. Often, they partner with one another to develop new ideas in global health.
The use of competitive grant-making mechanisms — sometimes called grand challenges — is a favorite among the likes of the Bill & Melinda Gates Foundation and U.S. Agency for International Development, and has been taken up by governments of emerging countries like Brazil, India and South Africa. Winners of these competitions usually end up with tens of thousands of dollars in cash rewards — not quite enough to scale up a promising idea, perhaps, but a good start.
These challenges have resulted in a slew of new solutions, from a mobile phone application that can help deliver health care to the doorsteps of people in remote villages to a cheap medical device that boosts the chance of newborn survival in the developing world. But despite their lifesaving promise following testing over many years, the majority of them risk remaining at the pilot stage.
"A lot of NGOs and funders are set up to try new things, to fund pilots and small-scale efforts and they don't necessarily follow through with funding when something is ready to scale," said Pam Bolton, vice president for strategy and innovation at Concern Worldwide U.S.
That's because scaling up requires huge costs, especially if it entails making the solution, whether a new drug, equipment or service, continuously available to the poorest of the poor who tend to be among the hardest to reach. And official development assistance for global health, which stood at $31.3 billion in 2013, won't be enough to cover those costs. Fighting tuberculosis alone requires $8 billion per year, according to the World Health Organization.
Private capital may help supplement that. More and more private investors are committing capital to efforts that generate social impact, including better health outcomes. Impact investments, according to one survey, have reached $46 billion and will likely grow this year by 19 percent.
Sustaining access to new ideas and effective solutions
Beyond financing new ideas in global health, the private sector has a role in developing new ways to advance health care and making new solutions more available to those who need it.
Pharmaceutical manufacturers, for instance, have launched more than 350 treatments over the last decade and have 3,200 compounds in the development pipeline. One of those could end up being a malaria vaccine.
But developing a drug that is safe and effective comes with an expensive price tag — somewhere between $4 billion and $11 billion. Much like donor agencies seeking partnerships with corporations to stretch aid dollars, pharmaceutical and medical equipment companies are partnering with one another and others to share the risks and reward of launching new global health solutions.
"Innovation is becoming more collaborative and we have moved away from profit-alone models to profit-together models," said Andrew Jenner, executive director of corporate strategy and legal affairs at the International Federation of Pharmaceutical Manufacturers & Associations.
Members of the federation are working to develop treatments for diseases in the developing world independently or through product development partnerships, a form of public-private collaboration, such as the Drugs for Neglected Diseases Initiative, Medicines for Malaria Venture and TB Alliance. Pledged to donate 14 billion treatments for neglected diseases between 2011 and 2020, they have affirmed the importance of a "holistic fight" against these diseases to include working with the World Health Organization and other partners to strengthen capacity in developing countries.
Like product development partnerships, advanced market commitments are designed to incentivize the pharmaceutical industry to develop solutions that can fight diseases in the developing world. In this case, donors, largely rich governments and foundations, agree to subsidize the price of future vaccines for infectious illnesses and in turn a manufacturer agrees to sell them in developing countries at an affordable price. Gavi, for instance, has this innovative financing scheme in place for pneumococcal disease — the leading cause of vaccine-preventable death among children under 5.
Another scheme somewhat akin to it is the public-private Pledge Guarantee for Health, which uses partial guarantees from U.S. and Swedish governments to enable traditional aid grantees, such as nongovernmental organizations and developing country ministries, to secure short-term, low-cost commercial credit to procure essential health supplies such as bed nets and contraceptives.
Adopting new ideas
Apart from accessibility, adoption is critical to scaling up new ideas.
Take the case of magnesium sulfate, which is proven to effectively treat pre-eclampsia, a disorder that kills 40,000 pregnant women each year, mainly in low- and middle-income countries. Yet despite its low cost — about $1 per dose — and being designated as essential medicine by the WHO the use of magnesium sulphate has been low. Studies suggest that the low price discourages mass production of the drug and policymakers are not moving to change the situation.
A number of reasons may explain why decision-makers aren't keen on scaling up effective solutions. For some, it's the lack of money; for others, the fear of being accountable for allocating resources to what may be perceived as a risky activity.
"As long we don't put in place governance systems, no innovation will help us reach the most vulnerable people," Gabriel Pictet, unit manager for community health and innovation at the International Federation of Red Cross and Red Crescent Societies, told Devex.
Rwanda, for instance, actively pursues new and effective ideas from its development partners as it wants to become more like Singapore, a city-state esteemed for its efficient public service.
Strong support from local communities can help to promote new ideas, as well. Development initiatives tend to find the most success if implementers live and listen to locals and involve them in the design and implementation of solutions.
More importantly, the new idea should strengthen health systems. And that part isn't going to be easy.
"I think it comes down to the question of how do we build a really strong health system?" said Jessie Cronan, executive director of Gardens for Health, which partners with government-run health centers in Rwanda to help families in rural regions with the highest rates of chronic malnutrition have a diverse diet by cultivating a home garden. "How do we reframe that role that NGOs play so that we're playing a supporting role to government institutions in these countries so that it isn't creating parallel systems but instead how are we working to strengthen what is already there so that there is true meaningful capacity building happening which is hard. It's a lot easier to set up your own thing than to work with any government."
Over the next month, Devex, along with leading players in global health, will explore how we can address that dilemma, as well as other emerging opportunities and challenges in saving lives and living longer.
Healthy Means is an online conversation hosted by Devex in partnership with Concern Worldwide, Gavi, GlaxoSmithKline, International Federation of Pharmaceutical Manufacturers & Associations, International Federation of Red Cross and Red Crescent Societies, Johnson & Johnson and the United Nations Population Fund to showcase new ideas and ways we can work together to expand health care and live better lives.